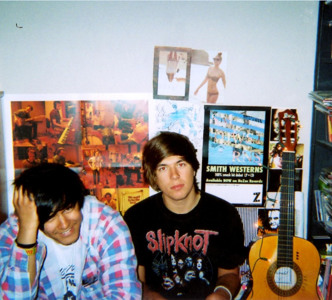 You know you hear something and immediately get hairs standing up on the back of your neck? Yep, that's how excited I was to stumble upon the SoundCloud of Dolfinz.
Ignore the acoustic guitar, ignore the Slipknot tee, this will give you the entirely wrong impression about the Stonehaven two-piece. There's no dull acoustic strumming, there is nothing anything even close to Slipknot-style screaming or double-base-drum overload. Dolfinz are excellent. Noisy, lo-fi and almost grungy-influenced yet still comfortably lumped in with the rest of the garage rock crowd, they give the slightly tired genre a massive kick - songs thrive through infectious choruses and guitar lines, satisfying and distorted shouts, crashing drums and guitar riffs, and some thoroughly enjoyable lyrics (personal favourite, given their name, being "I've got a blowhole on my head"). Songs are perfectly balanced in pop and rock measure, and have a fresh care-free feel.
Honestly, I am so excited to have found these and I honestly hope they get massive. Listen for yourselves below. Oh, and if you book gigs, let it be known that they'll be touring in August and are looking for some shows. Please book them somewhere near me.
Dolfinz - Coral Reefer
Dolfinz - Blowhole
Dolfinz - So Mean
SoundCloud
|