That's right. Welcome to Basement Fever's first ever competition! We're very happy to be here and we're excited to be giving away free stuff from people that we like. We think it's a pretty decent prize, and we hope you do too. Of course by 'we' I actually mean 'I'. Anyway.
Any even semi-regular visitor to or Facebook fan or Twitter follower of this blog will know just how much we like Saturday's Kids. They've featured a good few times on BF (
here
,
here
, and
here
, and we've also shouted how much we like them at other places, like on
The Pigeon Post
. Their ever-developing post-punk/post-hardcore sound has had us excited on many, many occasions and new tracks never fail to impress even when taking very new directions.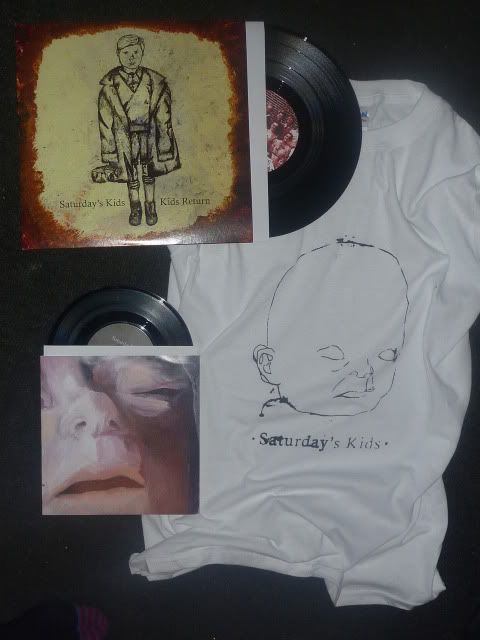 Kindly they've agreed to give away some free stuff to one lucky reader of this blog. The stuff featuring in the picture above. That is:
- A copy of their
10" split with Kids Return
(featuring Theorum, Unattainable and Whisper In My Ear).
- A copy of their
7" vinyl
(featuring Three Days, Spider's Legs, and A Dirty Dream)
- And a
free t-shirt
(in the size of your request).
They might even chuck in some pin badges. My left foot, although wonderfully socked, isn't included, unfortunately. All you have to do to enter this competition is answer one easy question.
Which part of the United Kingdom do Saturday's Kids call their home - England, Wales, Scotland, or Northern Ireland?
Email your answer to
basementcompetitions@gmail.com
with an email headed "Saturday's Kids Competition" (or something vaguely similar) in the next 2 weeks to enter. Entrance to the competition will close on Sunday 20th March, and a winner will then be picked at random. It is a policy of one entrance per individual, though, and address for postage must be in the UK.
If you're unsure of the answer, those previous
Basement Fever posts
or
the band's Facebook page
may be able to help.
And if you've forgotten quite how they sound, have a listen to some tracks below (posted in chronological order to try demonstrating their constant evolution as a group of young musicians).
Saturday's Kids - Social Crimes
Saturday's Kids - Grey On White
Saturday's Kids - Dirty Dream
Saturday's Kids - Whisper In My Ear
Feel free to tell all your friends to increase your chances. Best of luck!